Narendra Modi Stadium is a cricket ground in Motera, Ahmedabad, India.  Earlier it was knowns as Motera Stadium, but later on, the stadium was named after Indian prime minister Narendra Modi.
You will know everything about this because when it comes to which is the biggest cricket stadium in the world, this stadium tops the list. Moreover, the stadium is known for its architectural beauty, and that is why many important events like political rallies or government programs are hosted here.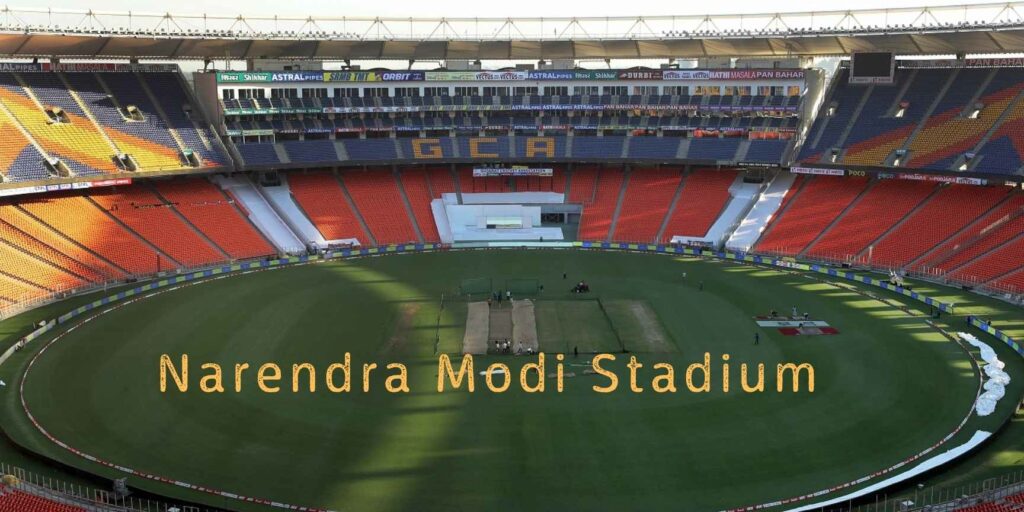 It is mainly used for international cricket matches, but it is the home ground of the Gujarat state team. They practice here regularly.
This stadium attracts a huge crowd during the matches as the experience you will get here will be unique and unmatched. There are stadiums like Melbourne cricket ground which are also famous and good, but this stadium can not compete with the capacity of the newly built Narendra Modi stadium.
Reconstruction Of Stadium
It was constructed in 1930 and could accommodate 50,000 spectators with full day-night games. But then the Gujarat cricket association decided to reconstruct this stadium to increase its efficiency in seating capacity.
Thus from 2015, the reconstruction work started, and it took five years to complete this project. The newly reconstructed stadium has the top-notch quality of amenities from all other stadiums.
The stadium's seating capacity was increased to 1.3 lakhs; with this, it registered its name as one of the biggest and largest cricket stadiums and became the tourist place for all cricket fans.  It consists of a pavilion building with a media center, gymnasium, swimming pool, first-aid room, and players' dressing room.
The stadium has a boundary rope surrounding the ground with grass covering the pitch, including three pitches. The changing rooms have been provided with warm showers, which are energy efficient to save energy costs.
Change Of Name
It was named "Narendra Modi international cricket stadium" by former prime minister dr. Narendra Modi is referred to as "Modi venue"  by supporters of Gujarat's chief minister, who is credited with its construction and has regularly used it as a venue for election campaigns. The Motera stadium is home to the Gujarat cricket team and hosts cricket matches and Indian premier league matches.
It has also hosted several international matches. Being the only venue in Gujarat, it has hosted all international matches for the state. In addition to internationals, it has also hosted domestic games featuring teams from Andhra Pradesh, Delhi, Maharashtra, Tamil Nadu, and West Bengal.
Unique Features Of Stadiums
The stadium was built on 63 acres of land with multiple entry gates. The VIP has 76 corporate boxes, which can accommodate 25 fans in each. You will also find the four-team dressing room with all the necessary types of equipment.
Led lightings to light the whole stadium, and it also has TV screens placed over different cricket field parts of the stadium for the audiences to watch highlights and score. This is not only a cricket stadium as it also has other sports grounds in the whole sports arena.
You can easily reach this stadium from any part of the city as the services of the metro connect it. This is convenient for all the fans coming to see the match from far city places. This stadium tries to use minimal electricity possible and thus relies mainly on renewable and environment-friendly power sources such as solar energy.
Facts You Should Know
The amazing fact about this stadium's cricket field dimensions is that it took Rs. 800 crore to build it, which is a huge amount of money for any stadium. The state government wanted to increase the quality of this stadium to attract a large crowd, which is why they put so much effort and money into it.
As you all know, with the reconstruction, it became the largest cricket stadium to accommodate a huge amount of fans.
Here, you will not have any problem finding cricket net pitches to practice before any matches. The sports association has provided enough space to conduct the practice session for the cricket teams playing in this stadium.
If you think about how many cricket stadium in India is multipurpose then the answer is none. This newly built stadium is of unique kind of stadium that can be used for multi-purposes. It is perfect to handle the crowd to host the musical concerts or any other bigger events.
The government also has made this stadium focusing on other sports such as football, hockey, etc. Thus it is also used to host the tournament of these games as well.